CLEAR-VIEW HD DVR MIRROR KIT FOR JEEP WRANGLER AND GLADIATOR
For Jeep Wrangler 2007-2022 and Jeep Gladiator 2020-2022

$499.00
| Year(s) | Make | Model | Trim Level | Additional Info |
| --- | --- | --- | --- | --- |
| 2007-2018 | JEEP | WRANGLER | ALL TRIM LEVELS | — |
| 2018-2021 | JEEP | WRANGLER | JL | — |
| 2007-2018 | JEEP | WRANGLER UNLIMITED | ALL TRIM LEVELS | — |
| 2018 | JEEP | WRANGLER UNLIMITED | JK | — |
| 2018-2021 | JEEP | WRANGLER UNLIMITED | JL | — |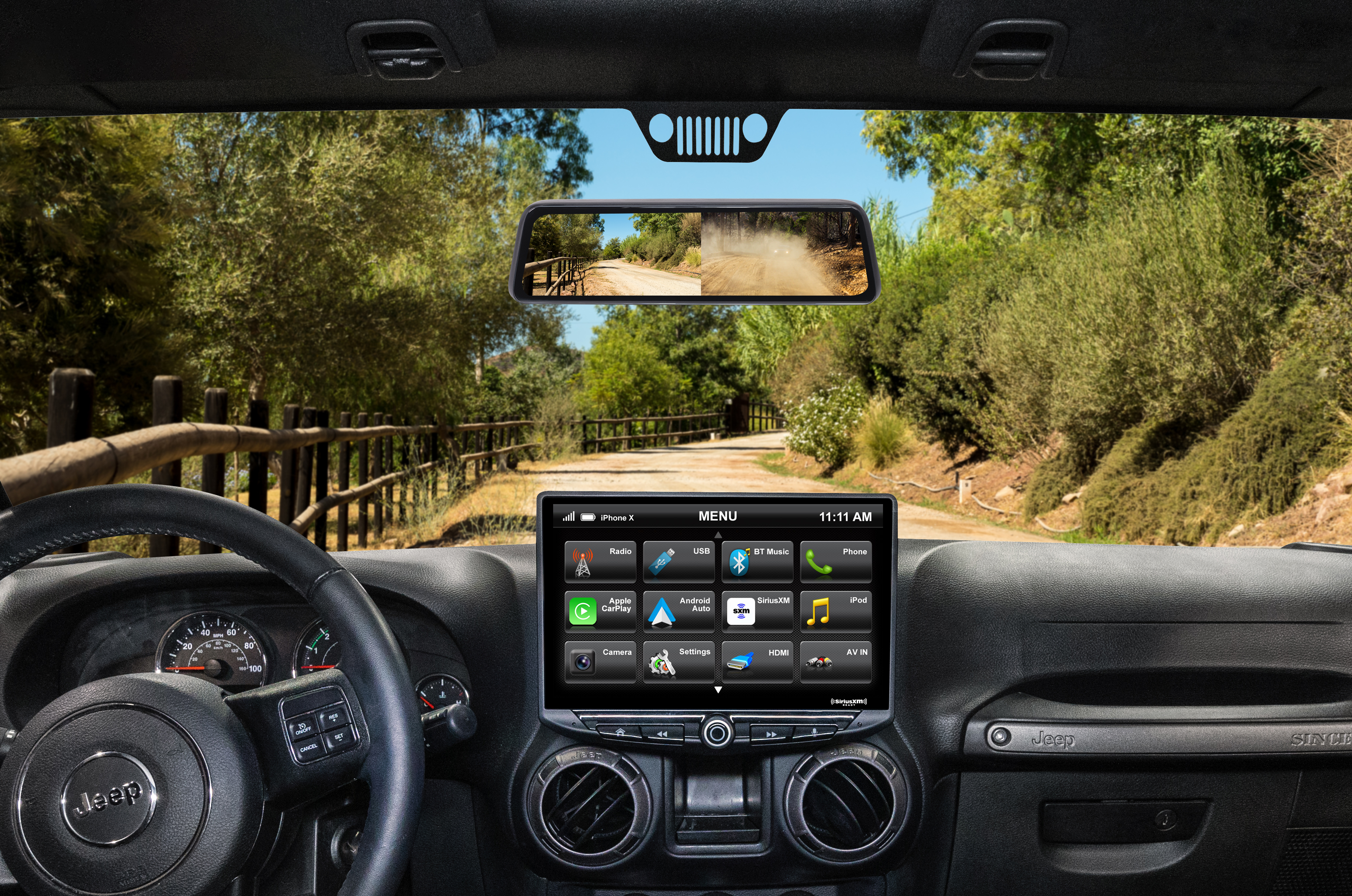 CAPTURE ALL YOUR RIDES ON THE TRAIL!
The Clear-View HD DVR mirror kit records front and rear video in brilliant 1080P resolution.
NO MORE OBSTRUCTIONS The large 9.3" display allows you to see more area from top to bottom and left to right than your original factory rearview mirror.
CAPTURE VIDEO AT ANYTIME Drive with confidence knowing if your vehicle is hit while parked, the mirror will start capturing video of the collision and keep the video in an area that can not be recorded over.
VERSATILITY Most aftermarket tire mount cameras only allow a 12 o'clock mounting location, but the Clear-View HD DVR allows you to mount the camera anywhere on your stock or aftermarket spare tire.
DURABILITY The spare tire bracket is designed with offroading in mind, and made of 12-gauge steel and zinc-infused coating, to withstand harsh elements and prevent rusting. The IP67-rated camera will withstand significant vibration, mud, and dirt on even the rockiest of terrains. ONE REAR CAMERA DOES IT ALL The Clear-View HD DVR allows the rear camera image to shift downward when backing up. When the vehicle is put into reverse the parking lines will display and the mirror image will shift down to be able to see the ground clearly
KIT FEATURES
9.3" 1280 x 320 LCD Screen
Built-in DVR
Built-in 3-Axis Accelerometer
F Camera: 1080P 30FPS
R Camera: 1080P 25FPS
IP67 Rated
145° Diagonal Field of View
Adjustable Vertical View
WHAT'S IN THE BOX
Clear-View HD DVR Mirror with Front Camera with JK Mount
Mirror Mount for JL/JT Models
Rear HD Camera
Rear HD Camera Mounting Bracket
GPS Antenna
Spare Tire Mounting Bracket (JP3-Mount)
Wire Harness
Camera Extension
Harness Instruction Manual
64 GB Micro SD Card Included